Summer is officially here and it's time to head outdoors.  Have you been thinking about creating an outdoor space this summer, more specifically an outdoor kitchen?  If so, check out these ideas from Home and Garden.

Remember to personalize and create a kitchen suitable to fit you and your family's lifestyle, which will make it much more likely to get outside and use your space all season long.
A fire pit adds a cozy element to an outdoor kitchen, making the space a destination as daylight dwindles.
Similar to a fire pit, a fireplace lends a sense of comfort to an outdoor kitchen. Consider adding a fireplace if you're aiming to bring the indoors out.
Take Out no more, especially if you enjoy making homemade pizzas, this one's for you. 
Do you plan on creating cocktails and mocktails with your meals? Make the bar the focus of your outdoor kitchen.
Tricked-Out Grilling Station
Attention, grill-masters! This is your time to shine. The bells and whistles available for grilling stations are endless. Again, choose based on your tendencies and preferences.
A bar and grill combination is perfect for outdoor entertaining. Bar stool seating creates a casual hangout spot for family and friends.
Pool House + Kitchen Combo
The pool house and outdoor kitchen combination creates a space where adults and kids can simultaneously gather and enjoy the day.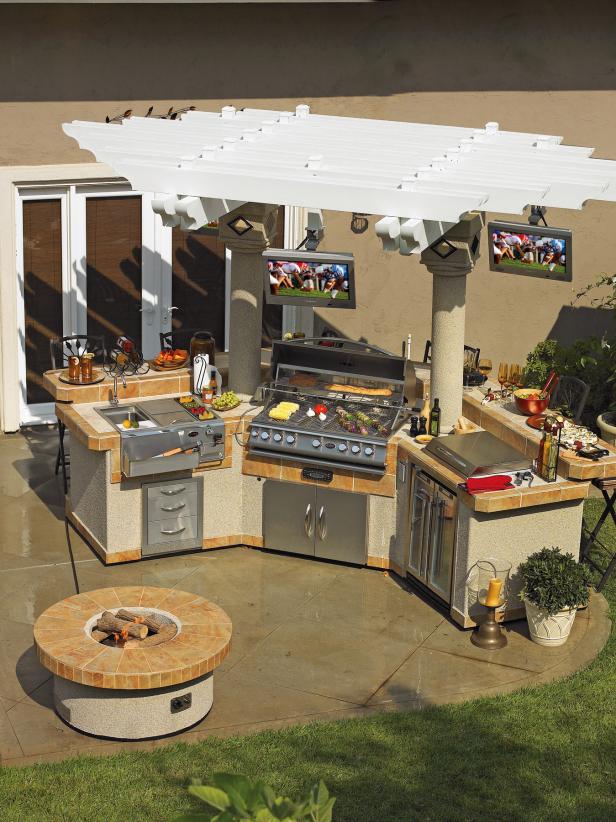 Sports fans, will love this top-of-the-line tailgating kitchen. Your friends will be begging to come over for the big game all season long!
Create shade with a beautiful pergola. A pergola also provides somewhere to mount light fixtures and fans.
If your outdoor kitchen has a partial enclosure or roofed covering, it's a good idea to install a hood to vent smoke and odors.
Head outdoors and enjoy summer!