There are many myths when it comes to bath and kitchen remodels as evidenced by the following article from KitchenKrafter, however the one that really drives us nuts is this one!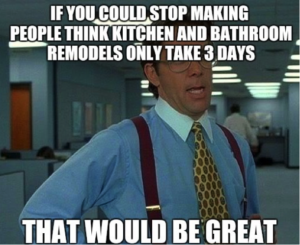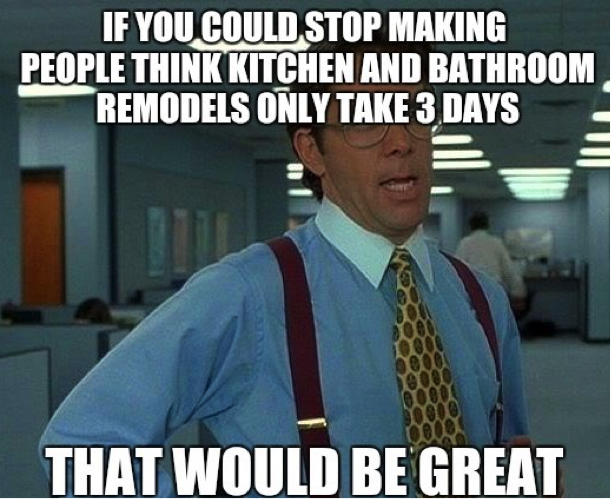 This question comes as no surprise however, the answer will always dependson the size and type of kitchen remodel, which can take between four to six weeks to remodel and that does not include the planning and design phase.
Below are a few pictures from a recent kitchen remodel in Middletown that took four weeks.  So when you are ready for a kitchen or bathroom remodel, stop into our showroom and we will begin the scheduling process and bust any other myths you may have.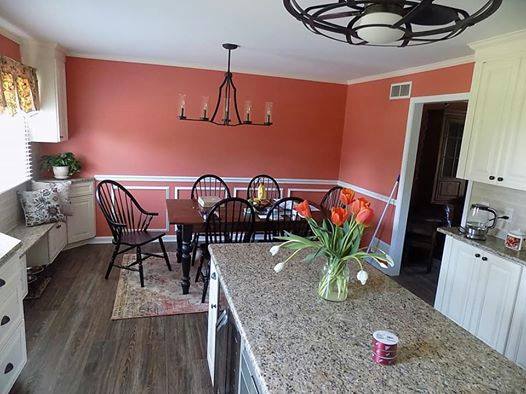 Read more remodel myths from KitchenKrafter.com
When you plan to undertake a home remodeling project, there are numerous considerations and concerns on your mind. This is especially true when it involves kitchen design or bathroom design. The kitchen and bathroom have additional complexities beyond a bedroom or living room such as plumbing pipes and fixtures as well as a bathtub and shower in the one room and appliances in the other.
Myth #1: How it Looks Is More Important Than Functionality
It's hard to deny that you want your kitchen or bath to look exquisite after a remodel is completed. This is, in fact, very important, but looks should not trump functionality. What's the point of a beautiful looking kitchen design if it lacks the counter space you need or sufficient cabinets for storage. This myth is one that will be frustrating in the long term as you leave yourself with a room that doesn't perform its function well.
Myth #2: Buying Cheaper Types of Materials or Brands Is Smart.
There can be some truth to this myth, but it can also be taken too far. When this happens, you find that money you saved during the remodel is money that you simply end up spending later when you have to have additional work done to fix counters, flooring or cabinets made out of cheap materials. It's always smart to get the best deal you can find for the items you need for your remodel, but don't compromise quality to do so.  Our list of suppliers produces quality materials that truly last!
Myth #3: Home Remodel Contractors Can Handle All Aspects of the Project
You will need to rely on professional designers and contractors to handle the actual remodeling work on your kitchen or bath. Despite this, don't underestimate your importance in the project. Designers can help point you in the right direction as far as ideas for designs, materials, fixtures, cabinets, countertops, bathtubs and appliances to use in a remodel. At Kitchen Krafter, for instance, we have a retail showroom in Ocean Township with huge selections of items to excite your imagination. At the end of the day, though, it's your kitchen or bathroom design project, and you have to tell the designer what you want it to look like when it's completed.
Myth #4: Remodeling My Kitchen or Bathroom Won't Make My House More Valuable
A remodel of the kitchen or bathroom will yield an increase in value to the home. The relative complexity of these rooms makes remodeling them a fairly major undertaking and one that a new owner will be glad to know they won't have to take care of since you've just done it. Of course, the nicer the materials, fixtures, items and appliances used in the remodel, the more it will contribute to the look, functionality and value of the room, which will, in turn, add more to the value of your New Jersey area home.
Myth #5: A Kitchen or Bathroom Remodel Would Cost Too Much
If you have been living in your home for any period of time, chances are you have some equity built up in it. Your house may be the biggest investment you'll ever own. This makes it a worthwhile place to sink a little money into every now and then. As stated in the previous myth, when done right, you should actually get some of the money put into a remodel back when it comes time to sell your home. In the meantime, splurge a little to make your kitchen or bath exactly how you want them to be. Presumably, you will still be living in this house for some time to come, and your happiness is certainly worth the investment.